There has been a support request in the Eurobilltracker Support System, mentioning that the Estonian EBT forum still lacks the additional text that the forums for other languages have on the list of different parts of the EBT forum.
Here's a picture of what I mean: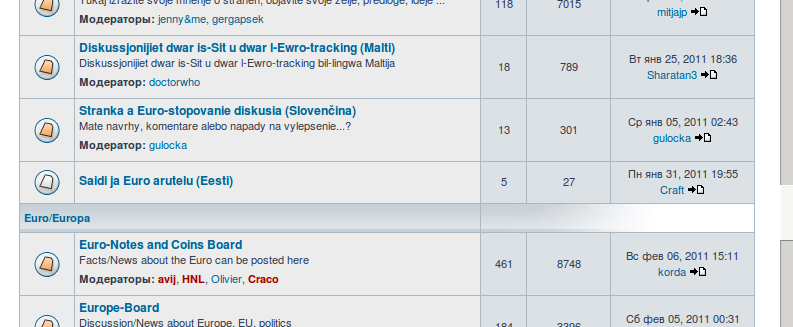 What would you like to have written there? The suggestion the person filing the support request gave was: "Arvamusi ja ettepanekuid eesti keeles". Do you find that OK, or would you for some reason prefer something else?
Currently other languages have such stuff written on that place:
ebtforum.com wrote:English: Post here your opinion about the site, wishlists for improvements, ideas ...
French: Your opinion is important, suggestions ...
German: Have you got suggestions, comments, ideas...?
Dutch: Give us your opinion. Have you got ideas we could use to make the site better? Share it with us!
Italian: Discussion regarding the site and Euro-tracking in Italian language
Spanish: (Sorry, my Spanish knowledge wasn't enough for translating this safely)
Finnish: Tell your opinion/opinions and suggestions in Finnish
Portuguese: Conversations and opinions in Portuguese
Greek: ??? BLOP BLOP FRÖÖÖGH (Or perhaps something else. My Greek is a bit rusty)
Slovenian: (This sounds partially understandable to me, but I still can't safely figure out what "tukaj" might mean)
Maltese: Discussion regarding the site and euro tracking in the Maltese language.
Slovakian: (Yes, they seem to be saying something there)
Estonian: (This seems a bit empty to my eyes. For now.)
As you can see, there is some space for variation regarding what to write there. So, what is your collective opinion?

Also the text "Saidi ja Euro arutelu (Eesti)" can be changed if something else is preferred.