Euro-Expert in Training

Posts: 317
Joined: Fri Jun 01, 2012 1:26 pm
Location: Cagliari, Italy
found a 2€

F
---
Ilmari Tapiovaara commemorative coin, never seen before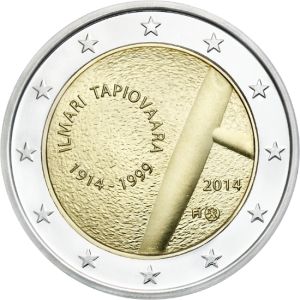 Ei sitä koskaan tiedä_Aatos99
---
Euro-Master

Posts: 10397
Joined: Sat Jul 21, 2007 9:22 pm
Location: Arras, France - Voiron, France - Lido di Dante, Italy
10c

:
Attachments

10caut2014.jpg (91.88 KiB) Viewed 323 times
Si tu veux voler avec les aigles, éloigne-toi des paons. (proverbe d'origine inconnue)
千里之行 始于足下, proverbe chinois
اتَّكَلْنا منه على خُصٍّ الاتحاد قوة, proverbe arabe
ספר המעשיות: כולל אגדות וסיפורים מתוך קובץ כ"י ישן, proverbe sanskrit
---
Euro-Master

Posts: 12147
Joined: Sat Jun 12, 2010 11:58 am
Location: perdu dans le Condroz belge
List updated (see on top of 1st page), but please post hereafter ONLY the coins that there are NOT YET into this list ! Thanks !

http://liste.eurobillets.free.fr/
: don't miss it every day ! à zieuter tous les jours ! kijk elke dag !

---
Got yesterday an used

5 cent coin.
Ei sitä koskaan tiedä_Aatos99
---
Euro-Master

Posts: 10397
Joined: Sat Jul 21, 2007 9:22 pm
Location: Arras, France - Voiron, France - Lido di Dante, Italy
5c

:
Attachments

5cit2014.jpg (26.54 KiB) Viewed 126 times
Si tu veux voler avec les aigles, éloigne-toi des paons. (proverbe d'origine inconnue)
千里之行 始于足下, proverbe chinois
اتَّكَلْنا منه على خُصٍّ الاتحاد قوة, proverbe arabe
ספר המעשיות: כולל אגדות וסיפורים מתוך קובץ כ"י ישן, proverbe sanskrit
---
Euro-Master

Posts: 10397
Joined: Sat Jul 21, 2007 9:22 pm
Location: Arras, France - Voiron, France - Lido di Dante, Italy
2€

:
Attachments

2eurofin2014.jpg (100.32 KiB) Viewed 82 times
Si tu veux voler avec les aigles, éloigne-toi des paons. (proverbe d'origine inconnue)
千里之行 始于足下, proverbe chinois
اتَّكَلْنا منه على خُصٍّ الاتحاد قوة, proverbe arabe
ספר המעשיות: כולל אגדות וסיפורים מתוך קובץ כ"י ישן, proverbe sanskrit
---
---